Skip to content
For an optimal viewing experience, it is recommended to view this website on the latest versions of IE, Firefox, Chrome or Safari.
Vibro is dedicated to protecting the health and safety of its employees and workers at all times. We aim to achieve this by integrating occupational health and safety risk management into our planning, design and construction processes.
Vibro's comprehensive Occupational Safety and Health Management System complies with OHSAS 18001 and the Code of Practice of Factories & Industrial Undertakings (Safety Management) Regulation. Yet, our efforts go beyond just complying with statutory obligations, they are made from the heart as an integral part of our holistic commitment to staff care.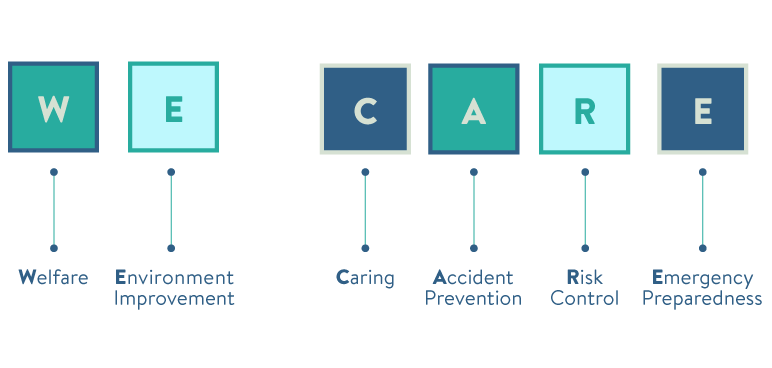 Vibro Annual Safety Review Conference
The Vibro Annual Safety Review Conference is held in May every year to reinforce our site safety culture. In 2018, more than 400 frontline staff members and sub-contractors representatives were invited to the Conference to take part in series of discussions and sharing sessions. These activities aimed to help participants to gain new insights through reviewing past incidents of the industry and encourage them to join hands to create a safe working environment together. We also invited Mr Chow Luen Kiu, the Chairman of the Hong Kong Construction Industry Employees General Union (HKCIEGU) and sub-contractor representatives to share their views and tips on safety management.

In the Conference, Mr Fred Koo, Vibro's Director and General Manager encouraged frontline staff to stay vigilant, speak up for safety and strive to enhance safety performance at sites. Senior management of Vibro also took the opportunity to announce the new safety and health objectives and policies for the coming year.
Group photo showing the Vibro management team with around 400 frontline employees and sub-contractor representatives attending the conference

Mr Chow Luen Kiu, the Chairman of the HKCIEGU shared cases of serious accidents in the construction industry

Sub-contractor representatives shared their views on safety management
Listening Yields Success
Safety and health policies and accident prevention measures are made more effective by taking account of the feedback from site-based staff and frontline workers. Vibro always adopts a collaborative and inclusive approach by listening to the needs and concerns of our people.

Vibro's top management regularly joins morning exercise sessions and lunchtime meetings at our sites. This gives staff and workers at all levels an opportunity to exchange opinions on site safety and health with our top decision makers. This interactive communication process not only helps to optimise the existing safety measures but also helps emphasise the importance of safety awareness amongst our people.

Senior management attended the morning safety briefing on site

Senior management attend a lunch time meeting at site with the site supervisors to enhance the two-way communication

Project management attend a lunch time meeting with site workers